The Allure of The Older Man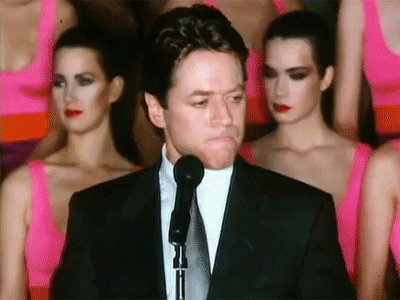 One of the first crushes I had as a teenager was on a rock singer called Robert Palmer. You may remember him as the guy in a dapper suit singing 'Addicted to Love,' with sexily dressed, red-lipsticked, models dancing behind him. It was 1985 and I was 12 years old. I got a funny feeling in my tummy watching the video on 'Top of the Pops'. Soon after I found myself thinking about Robert Palmer rather a lot. I imagined he was one of my school teachers, and was telling me off in detention (and I'd be wearing the self-same, slinky outfit of one of his backing dancers rather than my hideous school uniform). I imagined him dancing in my bedroom in his smart suit. I imagined him driving me around in an expensive car and picking me up from school (that sounds a bit creepy I know).
And so, started my obsession with older men.
In my early teenage years I was tall for my age and looked much older. The boys who went to the nearby boy's school were like penguins next to me. Some had squeaky, silly voices. Some only came up to my boobs. Others had great big booming tenors, but terrible acne - there was one boy called Bevan who seemed to have a permanent erection and hair like a toilet brush. It seemed that many of these young men were going through a difficult phase... their attractive potential hadn't reached its peak.
Older men had authority. Older men knew how to dress. They knew what they were doing. They didn't reek of cheap aftershave.
At school, it was hard to find an older man to get a crush on. All the male teachers were either cruel, lecherous or had bad breath (or all three). We had one art teacher who was in his forties and was (now I look back on it) extremely inappropriate. He often asked girls to go into the 'dark room' with him, and would then spend twenty minutes breathing heavily down our necks whilst we tried to focus on our art projects. He once took me out to a restaurant, and then asked me to go back to his house. I was naïve and thought he wanted to talk about Andy Warhol (I was obsessed with Warhol). Luckily my Dad arrived to pick me up in the nick of time. This teacher had just set up a camera in his bedroom and was getting ready for us to recreate Andy's iconic movie 'Sleep'.
This wasn't my Robert Palmer fantasy and it made me a little wary.
I then started clubbing aged 13, and most of the men I fancied were in their early twenties. It was difficult looking older as they assumed I was more experienced, and understood the nuances of adult relationships. The fact that if someone bought you a drink then you owed them something. The fact that a kiss or a snog led to something more significant. Then when I hit 15, I met a man who was unlike any of the pushy, sexually predatory men I'd encountered before. He was Dutch. He was twelve years older than me. He was a musician in a moderately well known indie band. He said I was the most beautiful girl he'd ever seen. This was not the usual approach of men my own age. His hair stood on end like Albert Einstein. It wasn't love at first sight, but something had shifted.
We ended up living together for about eight years.
The advantages of having an older partner are many. That first boyfriend knew an awful lot about literature, music and culture. He didn't give me a love bite, and then shove his hand down my pants after two minutes of slow dancing. We didn't kiss for a long time. We talked on our dates.
Now some of you may be thinking- look this has NOTHING to do with the AGE of the man, it's more about the man himself; his character, values, all that jazz. And yes, I guess that's true. It's not just about the age, but if you're fifteen, then it's difficult to find a fifteen-year-old man that's on the same level. There is always that drive to get to first base. There isn't a lot of conversation or charm involved. One boy my own age tried to have sex with me through my tights- his understanding of basic physiology was way too basic for me.
This is probably no longer true as teenagers seem to mature much more quickly now but back then fifteen-year-old boys were a pain in the butt.
My next long-term boyfriend, who I've now been with for twenty years, is also older than me (by ten years). The weird thing is that we went to the same clubs at the same time, but he says we never met. I think he may have seen me but this wasn't a good time for me sartorially and liked wearing puffa jackets indoors. I sweated a lot put it that way. This was before the days of high-tech foundations that keep you matt for twelve hours.
Anyway, the older man thing continues... except now it's not always a positive. Now the only men that look at me are in their seventies. I get messages on IG from men who look like Colonel Sanders. I'm catnip to men my Father's age. They wink at me on the bus. Sometimes I have to look behind me to check it's actually happening. They are bloody geriatric! When you're fifteen, a man in his late twenties is appealing. When you get to your forties, a man in his seventies less so. This is hypocritical I know. I'm no spring chicken myself.
'Do you still get crushes on older men then?' my friend asked me recently, after I talked through my thoughts on Robert Palmer and his ilk.
'Yes, but only certain types. Musicians. Creative types. I'd definitely sleep with Mick Jagger if I got the chance.'
'I think you're too old for him now,' she said.
And she's right. I'm too old to be into older men.
I'll have to rethink my strategy perhaps.